Assisting in a Hair Salon – How to hire the best assistant ever! | Hairstylist Business Tips
Assisting in a Hair Salon – How to hire the best assistant ever! | Hairstylist Business Tips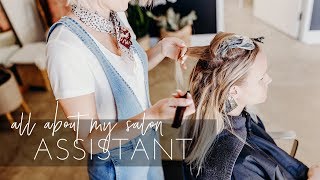 Learn everything about my salon assistant, Annie Sullivan!
My assistant has been with me for over 1.5 years and I wanted to interview her to share with you guys how we work together in the salon.
In the interview, I talk about how I found Annie, what the interview process looked like, what she does for me in the salon, how we run our schedule, and what advice she has for salons or stylists looking to hire an assistant and stylists looking to be an assistant!
I hope this gives you a behind the scenes look into how I work in the salon even more!
Check out Annie on Instagram: https://www.instagram.com/annie_sullivan
➵ COME SAY HI OVER ON MY INSTAGRAM: https://www.instagram.com/jamiedanahairstylist
Are you a hairstylist who wants to get more followers and ultimately more clients in your chair? I have a workbook I created just for you that takes away the confusion of using hashtags on Instagram!
➵ Download my FREE Hashtag How To Guide for Hairstylists: https://www.jamiedana.com/hashtagworkbook