ASMR Full video at Matt's Barber Parlor, Shears, Straight Razor, Massage
ASMR Full video at Matt's Barber Parlor, Shears, Straight Razor, Massage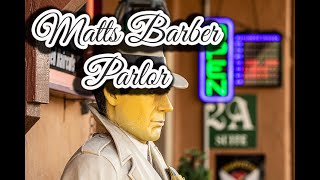 This video goes along with the other one we posted here (https://www.youtube.com/watch?v=_TwFMTPrmz4&t=0s) The first video was a mixed video with B roll of the shop, service and the interview we had with Matt Gallegos the Owner of Matt's Barber Shop. This video is an almost unedited full video of the Haircut, Beard Trim and Massage, including ASMR sounds from item such as straight razor, clippers, shears, comb and a background fan that added a pretty good lull to the sound. I was pretty disappointed in the lens i was using though as it was really noisy when focusing, i hope that is not too much of a distraction, who know some people might like the sounds.
We hope you enjoy this video, don't forget to like, subscribe and turn on all notifications so you are aware of when our newest videos come out.
Matt's Haircut Video's Channel – https://www.youtube.com/channel/UC9MSGv12kpC-dLxFB8CZhyA
Matt's Barber Parlor Location:
115 W McDowell Rd, Phoenix, AZ 85003
Phone: (602) 254-2753
0:00 – Intro
0:10 – Barber and Client Welcome
2:15 – Large Clippers on Hair
9:35 – Shears on Hair
13:30 – Large Clippers on Beard
20:50 – Shears on Beard
22:25 – Clippers on "Ear Fuzz"
24:10 – Hot Lather Dispensing
25:30 – Straight Razor
32:25 – Hand Massage Machine
34:48 – Blow Dryer
35:30 – Clippers Touch Up
37:45 – Shears Clean Up
39:30 – Service end with Matt's Smiling Face!
Music Provided by:
Melange – Anvion
Melange by AnvionMusic https://soundcloud.com/anvionmusic
Creative Commons — Attribution-ShareAlike 3.0 Unported— CC BY-SA 3.0
http://creativecommons.org/licenses/b…
Music provided by Audio Library https://youtu.be/LqVfbijhslA
#MattsBarberParlor #BarbershopReviews #ASMR