African Threading Top Bun with Brazilian Wool | Tutorial
African Threading Top Bun with Brazilian Wool | Tutorial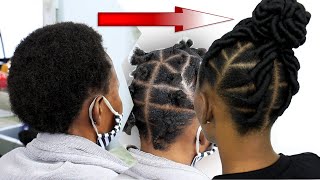 Brazilian wool always comes through right? This African threading is easy, suitable for beginners as well. I only used one ball of 80g Brazilian wool and that's it. So not only is it easy but an affordable hairstyle as well. Suitable for kids and adults. What a winner.
Been a while guys. Sorry for not uploading anything for so long. Have not been feeling too well so I had to take a break. But I had some hairstyles footage which I will be sharing with you. Starting with this one.
Do visit https://naturalsisters.co.za/ for more hair tips and DIY recipes.
Hair products shop https://natmoisture.co.za/
Facebook https://www.facebook.com/Naturalsisters?ref=tn_tnmn
Twitter handle, @evemafupa https://twitter.com/home
Instagram, @evemafupa https://www.instagram.com/evemafupa/
Playlists you may want to watch
Needle & Thread Hairstyles
African Threading
Product reviews
Natural Hairstyles Tutorials
DIY hair products
https://www.youtube.com/playlist?list=PLUz1XDVk0itQX1oxXZVnUd0v6CczsmvIE