5 PROVEN WAYS TO BECOME A BETTER BARBER | ADTHEBARBER
5 PROVEN WAYS TO BECOME A BETTER BARBER | ADTHEBARBER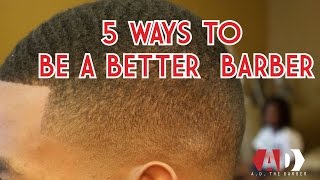 Twitter: Realadthebarber
Instagram: Realadthebarber
Periscope: Realadthebarber
WWW.ADTHEBARBER.COM
5 Proven Ways to Become a Better Barber
1. Pay attention to the small details, the small things matter.
2.Take breaks, time of helps to become better just like lifting weights.
3. Mentally prepare every cut to become better, losing weight, you have to want to get better every cut, a difference between cutting to get better and cutting for money.
4. Find the tools that work for you and use them! Don't bother wasting money on clippers that you'll never use just to have a lot of clippers
5.Be teachable, no matter how great of a barber you are you have to be able to take constructive criticism and have an open mind to other ideas styles and techniques. No ones perfect and thinking you already the best you can be or the greatest you won't leave yourself space for improvement, we can all always get better.