2021 Hairstyle: Death Of The Skin Fade Trend
2021 Hairstyle: Death Of The Skin Fade Trend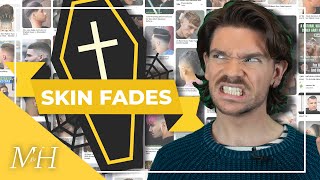 'Are skin fades out of fashion in 2021'? This was a question from John, a viewer on one of my hair videos. There are loads of men's hairstyles for 2021 but it might be time to ditch the skin fade!
Loads of hairstyles on the Hairstyle Directory: https://manforhimself.com/mens-hairstyles/
00:00 – Introduction
00:41 Grow it out or cut it off?
00:52 What is a skin fade?
01:14 Every guy on YouTube
01:28 Where the skin fade works
02:05 Who does the skin fade suit?
02:30 Is the skin fade still in fashion?
03:11 What people think of my longer hair
_______________________
Don't forget to sign up for the Man For Himself newsletter for more grooming top tips: https://manforhimself.com/man-for-himself-newsletter/
Hair product reviews here: https://manforhimself.com/products/
_______________________
More Man For Himself Videos:
— 5 Mistakes To Avoid When Growing Your Hair | https://youtu.be/CHVc7Yneg04
— 3 Men's Hairstyles For Longer Hair | Hair Tutorial – https://youtu.be/qXtQYTXsvhY
— Slick Gorilla Clay Pomade | Honest Review – https://youtu.be/yEER-dNfBCg
— 5 Men's Long Hairstyle To Try In 2020 | Part 2 – https://youtu.be/xhOjwJG8X6c
— My Holy Grail Men's Hair Products | Part 1 – https://youtu.be/EnGr27rUrv8
— Men's Medium Length Haircut and Style | Textured Hairstyle Using Clay – https://youtu.be/JpmCkcVYVEU
#MensHair #MensHairstyles #MensHair2021 #2021 #SkinFade #Fade #MensHaircut #HowTo #ManForHimself #RobinJames
_______________________
FOLLOW ME!
Come and follow me on…
Instagram: @ManForHimself
@ManForHair
Twitter: @ManForHimself
Facebook: /ManForHimself
Check out my blog too: http://www.ManForHimself.com
________________________
SUBSCRIBE
I'm Robin James. My YouTube channel is a destination for men's grooming; looking at hair, skincare and fragrance.
I make videos showing how to achieve different hairstyles and haircuts; exploring grooming products; and reviewing men's fragrances.
________________________
This video is not sponsored.