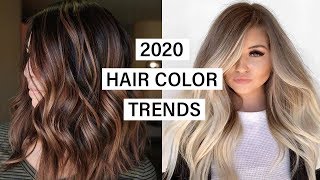 #haircolortrend #haircolor #hairtrend
2020 Hair Color Trends
#haircolor #haircolortrend #hairtrend
With the start of a new year comes an impulsive urge to shake things up. While some are enthusiastically hitting the gym—for a few weeks, at least—we're making an appointment at the hair salon. As soon as possible.It's finally time to follow that itch to change up your look. We're predicting that 2020 is going to be all about subtle but statement-making color. After that, the possibilities are endless. Kick off 2020 with one of these trendy hot hair colors.
BRONDE
If you can't make up your mind over whether to go light or dark for summer, 'bronde' is for you. A warm and glossy look, the main benefits of this hair color are that it's achievable and low-maintenance, keeping hair super healthy while offering light and shade for pops of color and brightness.
In between blonde and brown—bronde—is always beautiful for people who are naturally dark to medium brown. Those with darker hair naturally pull warm because of underlying pigment in the hair, so to achieve a beautiful bronde, some warmth is necessary. This shade is great for those who don't want to commit to tons of touch-ups and is perfect for brunettes wanting to try blonde for the first time.
Silver Blonde
Silver blonde hair is a hair color that blends a traditional blonde color with a silver color. It's a modern blonde that's best described as a metallic platinum gloss. It's well known among professionals that this updated color gives a dramatic change to anyone who wears it!
Caramel Highlights
Delicious hues, such as caramel, are incredibly enticing, which makes them an excellent choice for highlights, downlights and dip dyes. Luckily, this sweet palette embraces a wide array of hues from neutral/cool beiges and soft creamy tones to rich tangerine and dark brown sugars.
Shadow Roots
Unclear about what shadow roots actually are? Basically, it's when the color of your roots creates a "shadow" when contrasted with the rest of your hair color. With shadow roots, you can go two routes: (1) Your natural roots create a shadow when against your fresh dye job or highlights or (2) newly dyed roots create contrast against your natural hair color.
FADE-TO-BLONDE
The key here is adding different shades of wheat and honey tones throughout, so the color looks already lived-in, real and far from appearing like a #FakeBlonde
Dark Chocolate Brown
If you have olive skin or dark skin, you should definitely pick a glossy brown color. It provides a nice contour to your face and highlights your features.
Lilac Hair
Maintaining lilac hair can be difficult as fading happens quickly and it can become very blue. The key to keeping it fresh is making sure you have a good tone in the first place that you can top up easily.
Dip Dye Ends
Two colors make up a dip-dye; the root shade and the tone throughout the tips. Done right, your hair will appear as if it has been literally dipped in dye (hence the name).
Rich Red
From natural strawberry red to copper to rich auburn, wine, and bright red ruby tones, red hair is always a head-turning choice.
🔹 Subscribe: https://bit.ly/2FKQgTi
🔹 LIKE and SHARE our video and if you have something to say, just drop us a COMMENT!
🔹 Thank you for watching our videos, for subscribing and for your comments❤️
🔹 Follow us:
• Youtube: fashionistas – https://www.youtube.com/channel/UCWIwBH_wgzRYJx7k7cjdexA
• Facebook: fashionistas – https://www.facebook.com/fashionistaschic/
• Pinterest: highpe https://www.pinterest.com/highpe/
• Instagram: https://www.instagram.com/chic.fashionistas/
• Website: http://www.highpe.com/
• Email: boldfashionistas@gmail.com