10 Most Hated Things About Hairstylists + Bloopers
10 Most Hated Things About Hairstylists + Bloopers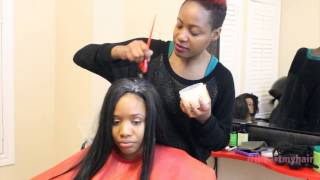 Hi, I'm Añya pls CLICK TO TWEET this video » http://ctt.ec/h7nW2
SUBSCRIBE to my channel for more awesome funny videos like this one.
♡————————————————————————
I collaborated with:
Zuri Natural Hair Salon
Facebook – http://www.facebook.com/myzurinaturals
Instagram – http://instagram.com/zurinaturals
Do you want to see more do more videos like this?
Insta Me:» http://instagram.com/iHeartMyHairr
Tweet Me:» http://twitter.com/iHeartMyHair
Join my FUN page:» http://facebook.com/iheartmyhair
♡————————————————————————
10 Things I Hate About Hairstylists is a video concept that I came up with to provide comical relief base on my own frustrations with my experience at salons. Follow along with me as I outline the different type of hairstylists, many of whom you may come across. When you've completed this analysis please share with me some of your salon experiences.
1. The Scissor Happy Hairstylist
2. The Double Booker Hairstylist
3. The Gossip Hairstylist
4. The Inconsiderate Hairstylist
5. The Multitask, Errand Runner Hairstylist
6. The Lying Hairstylist
7. Detailed Efficient Hairstylist
8. Blame Your Hairstylist
9. The Under Deliver Hairstylist
10. The Hairdryer Nazi Hairstylist
This mini production would not be possible without:
Reeney Hair Salon // LocSuria Hair Products
Nadine's Hair Studio
(416) 781-3065
♡————————————————————————
H A I R – M O I S T U R E – C H A L L E N G E -» http://hairlove.me/hydration
M U S T – H A V E – N A T U R A L – H A I R – T O O L S -» http://hairlove.me/b2b
♡————————————————————————
This video is ideal for those looking for:»