10 Haircuts You'll Be Asking For In 2020
10 Haircuts You'll Be Asking For In 2020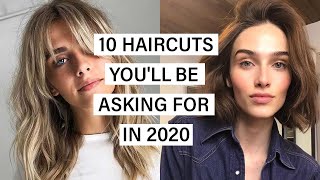 #haircuttrend #haircut #haircutforwomen
If you've been wanting to make a chop, there are blunt bobs, curtain fringe, and retro silhouettes just waiting to be shorn.
Here are the 10 haircuts you'll be asking for in 2020, the haircuts you'll be seeing everywhere this year:
1. Lobs (Long Bobs)
Lob season is coming! This look is amazing and great for people who love to wear their hair up, but also want texture, as well as the option to wear it down. It's great for summer fashion, keeping the overall look cool and chic
2. The Rachel Haircut Will Be Making A Return
If you looking for a haircut for 2020, why not embrace a '90s 'do? The '90s are back in a big way. We're going to see the '90s trend continue into 2020 with the Jennifer Aniston – The Rachel cut coming back — heavy layers, fringes, minimal styling.
3. Textured Blunt Bob
4. Jaw-Length Blunt Bob
5. Soft Blunt Bob
The strong horizontal finish, which is far from a concave, box bob, just oozes coolness and don't-mess-with-me style. Be aware though, before you take the plunge, however, as you need fine delicate facial features to pull this number off.
6. Floaty Fringes
This square shape is flirty but still considered serious when it needs to be on-guard. It's also a length and shape that you can play around with. You can blow it out smooth, so it has a strong presence, or you can piece it out, so it appears soft and choppy. These bangs are rockin'.
7. Modern Shag
Next to the bob, no cut is as versatile as the shag. Defined only by its heavy layers, it works across every hair length, texture, and with or without bangs.
8. Invisible Layers
Unless you're going for something deliberately bold and choppy – a light touch is likely to be more easy to style and therefore more flattering for everyday. Though invisible layers may not sound like much, in practice, they can be surprisingly effective.
9. Short Pixie Cuts
There was a pixie resurgence in 2019, and I think it's here to stay, shorter lengths will continue to reign with softer edges and more movement. More specifically, though, experts are predicting pixie cuts will be everywhere in the new year Short hair is much more manageable and less high maintenance, but in order to help it grow out, you'll need to schedule routine trims.
10. Farrah Fawcett Feathered Layers
All the volume for this look is focused in the flips and curls that give it its character, opening up the facial features and neckline (remember that advice you got from your stylist?) Well, there you have it. Farrah Fawcett's feathered locks taught us a thing or two, and we're still being advised to follow her lead, when you break things down.
🔹 Subscribe: https://bit.ly/2FKQgTi
🔹 LIKE and SHARE our video and if you have something to say, just drop us a COMMENT!
🔹 Thank you for watching our videos, for subscribing and for your comments❤️
🔹 Follow us:
• Youtube: fashionistas – https://www.youtube.com/channel/UCWIwBH_wgzRYJx7k7cjdexA
• Facebook: fashionistas – https://www.facebook.com/fashionistaschic/
• Pinterest: highpe https://www.pinterest.com/highpe/
• Instagram: https://www.instagram.com/chic.fashionistas/
• Website: http://www.highpe.com/
• Email: boldfashionistas@gmail.com