(1/9) TAKING THE FIRST STEP CUT HAIR LIKE A BARBER : FREE Online Barber School
(1/9) TAKING THE FIRST STEP CUT HAIR LIKE A BARBER : FREE Online Barber School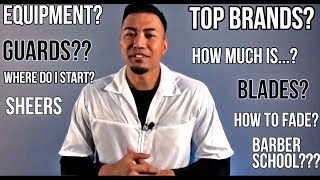 Congratulations on taking the first step! My name is Jesse Rae A.K.A. ThePhoenixBarber and I will be giving you a solid foundation on the barber industry. I hope you're as excited as I am! Some of the topics I will be going over is:
Equipment
Setting you up with your equipment
Terminology
Sanitation
Hair cutting techniques
In this course you will get the breakdown of the very basics to barbering. Let's get started!
—–
My Online Barber School
https://how-to-cut-hair-basics.teachable.com
Get Your Equipment (KIT.CO LINKS UPDATED 4/16/2020)
https://kit.co/thephoenixbarber/basic-haircutting-kit
Instagram
https://www.instagram.com/thephoenixbarber/
Youtube
https://www.youtube.com/channel/UCZ7xXaKx_p5U-zjgQ9Y2BdA?view_as=public
Email
Thephoenixbarber@gmail.com