NEW Easy Hairstyles For 2020🌟🔥
NEW Easy Hairstyles For 2020🌟🔥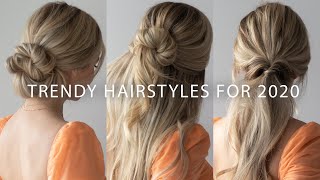 FOLLOW ME ON INSTAGRAM 👉🏻 http://www.instagram.com/alexgaboury
I thought I'd kick off the new year with an on trend hair tutorial sharing new + easy hairstyles for 2020! These are simple and beautiful hairstyles and I can't wait to see your recreations! First is a simple knotted half-up half-down hairstyle, it's so soft and beautiful, perfect for everyday. The second is my favourite, it's a simple topsy tail ponytail, I love the subtle detail the twist makes. Finally, is a beautiful twisted bun that looks difficult and intricate yet is simple, quick, and can be worn dressed up or down.
Comment down below on which hairstyle is your favourite and what other videos you would like to see this year!
Watch my Holiday Hairstyles video here (thank you for over 500,000+ views!) 👉🏻 http://bit.ly/3HolidayHairstyles
–
FOLLOW ME
INSTAGRAM: http://www.instagram.com/alexgaboury
PINTEREST: https://www.pinterest.com/alexgabouryyt
FACEBOOK: https://www.facebook.com/alexgabouryyt
TWITTER: http://www.twitter.com/alexgaboury
BLOG: http://www.alexgaboury.com
For business inquiries, email me at: agabourybiz@gmail.com
–
PRODUCTS IN VIDEO
Amika Texture Spray – http://bit.ly/2RfQI3w
T3 Curling Iron – http://bit.ly/2JlJ19M
Ana Luisa Ana Necklace Gold – http://bit.ly/2spIvS6
Ana Luisa Clara Necklace Gold – http://bit.ly/2spIvS6
Ana Luisa Rosa Ring Gold – http://bit.ly/2spIvS6
Top – http://bit.ly/381mxnn
Disclaimer: Thank you Ana Luisa for sponsoring this video. Some of the above links are affiliate links.
–
MORE VIDEOS
Sweater Weather Hairstyles – http://bit.ly/3Easy3MinuteHairstyles
Winter Haul Try-On – http://bit.ly/WinterHaul2019
3 Easy 3 Minute Hairstyles – http://bit.ly/3MinuteHairstyles
Current Monthly Favourites 2019 – http://bit.ly/FallFav2019
Braided Ponytail Hairstyles – http://bit.ly/3EASYBraidedPonytails
–
DISCOUNTS
Receive 15% off your Grow Gorgeous Order with code "ALEXEXTRA" http://bit.ly/alexgrowgorgeous
Receive $10 off your Luxy Hair order with code "LX-ALEXG"
http://bit.ly/2HyJukW
Receive 20% off your first Function of Beauty order with code "ALEXG"
https://cen.yt/functionalex
Receive 10% off your first Glossier order
http://bit.ly/2Mr0mjY
Receive 15% off your Voir Haircare order
http://voirhair.care/alex
–
#EasyHairstyles #HairstylesFor2020 #2020HairTrends