MY SON'S FIRST HAIRCUT AT A BLACK BARBERSHOP
MY SON'S FIRST HAIRCUT AT A BLACK BARBERSHOP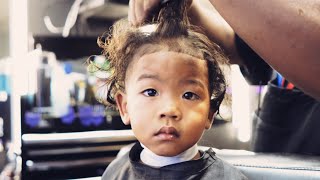 [Joe] I've been to a lot of barbers and salons, and the worst thing that could happen is when you are staring yourself in the mirror at one part of your head, wondering if the barber is going to see the flaw but then never see it. However, these barbers at "All In His Hands" see EVERYTHING. Knowing that your barber is competent with his craft automatically brings confidence and assurance. Sometimes the barber is cutting the same place on the back of my head for 30 minutes, and I wonder "what could possibly still be back there?" But I know he's working on me, even though I can't understand it. When he's through, I know it will look good.
After having a consistently positive experience at the black barbershop ("All In His Hands"), I decided to take Ajedi there for his haircut. He was hesitant to get his haircut by Lemarc (the barber who has been cutting my hair lately), but he was surprisingly good with the buzzing clippers and pointy scissors whirling around him. After we were all done, I had a little chat with the owner, Lee, who has been running the shop for over 20 years. He mentioned how each one of his barbers are deeply rooted to him, his family, and the church. The shop's name was founded based on his Christian faith and dedication as a barber.
Romans 8:28 ESV
And we know that for those who love God all things work together for good, for those who are called according to his purpose.
Subscribe to MAZELEE Here: https://www.youtube.com/MAZELEE
Follow us everywhere
Alena's IG: http://instagram.com/as.maze
Twitter: https://twitter.com/llMAZELEEll
Joe's Tumblr: http://ambwblog.tumblr.com
Facebook: https://www.facebook.com/MazeLee
Snapchat: maze.lee
About us:
Joe Lee, 30, and Alena Maze, 30, a newlywed married couple with a blended family of six children, document their journey to find their purpose in the will of God. While revealing the dynamics of a blended family, the couple expresses their struggles, successes, and failures through film.
Joe Lee | Director of Photography & Street photographer
Alena Maze | Director & Mathematician
————Stuff Used To Shoot Our Videos——-
Main Camera: http://amzn.to/2aG0YOf
Waterproof Camera: http://amzn.to/2aZYdq0
Main Lens: http://amzn.to/2aiMnW2
Wide Lens: http://amzn.to/2aiKicK
Microphone: http://amzn.to/2aiL6yi
2nd Microphone: http://amzn.to/2aG1yeX
Full Line Up: http://astore.amazon.com/m0ba92-20
Music Credits:
Ryan Little – La besitos
http://www.YouTube.com/TheR4C2010
http://www.SoundCloud.com/iamryanlittle
DISCLAIMER: This video and description contains affiliate links, which means that if you click on one of the product links, we'll receive a small commission at no cost to you. This helps support the channel and allows us to continue to make videos like this. Thank you for the support!