MOBILESTYLES Licensed On-Demand Hairstylist in Arizona | Stephanie
MOBILESTYLES Licensed On-Demand Hairstylist in Arizona | Stephanie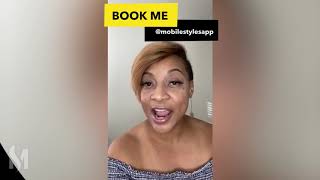 Meet Stephanie, a MOBILESTYLES PRO, and a licensed hairstylist, providing on-demand beauty services in Buckeye, Arizona. Book Stephanie on the MOBILESTYLES App and have her come to you for in-home beauty services. With just a few clicks you can have Stephanie arrive at your doorstep to cut or curl your hair. As a graduate from Universal Beauty College, Aveda Institute, and holding certificates in Redken 5 training, Dream Catcher Extensions training, and Brazilian blowout, she knows the latest beauty trends and carries the latest products, so you know you're getting the VIP treatment. Stephanie's services include:
Women's haircuts
Hair blowouts
Hair extensions
Hair perms
Hair relaxers
Men's fades
Hair twists
Braids
Weaves
Color corrections
Highlights
Children's hair – blowdrying & detangling
Available on the App Store and Google Play. Download the MOBILESTYLES App now! https://mobilestyles.com/download
Find Stephanie in the MOBILESTYLES PRO Directory here: https://mobilestyles.com/professional/LOlVpMMn4GF3N34Njl1A
MOBILESTYLES is the #1 on-demand health and beauty app that arrives swiftly at your doorstep. Get quick tips on how to book a professional to come to you! MOBILESTYLES combines beauty and technology for your convenience. MOBILESTYLES is the only app that brings health, beauty, and wellness on-demand. With a few clicks, take back your life and create your own bliss at home. 
Subscribe to our channel to stay charming and stylish! https://www.youtube.com/channel/UCe4-OawdztvAtFBeHLeQxZQ
Follow us for the latest MOBILESTYLES news.
Instagram: https://www.instagram.com/mobilestylesapp/
Facebook: https://www.facebook.com/mobilestylesapp
Twitter: https://twitter.com/mobilestylesapp
LinkedIn: https://www.linkedin.com/company/mobilestylesapp/
Website: https://mobilestyles.com/
Contact us!
Call: (844) 9-STYLES
Text: (323) 897-1512
Email: contact@mobilestyles.com