MOBILESTYLES Licensed On-Demand Cosmetologist in Arizona | Whitney
MOBILESTYLES Licensed On-Demand Cosmetologist in Arizona | Whitney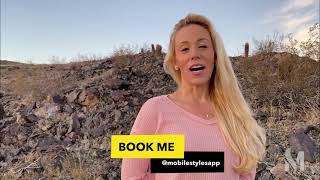 Meet Whitney, a MOBILESTYLES PRO and licensed cosmetologist, providing on-demand beauty and hair services in Phoenix, Arizona. Book Whitney on the MOBILESTYLES App and have her come to you for haircuts, ombres, perms, and even children's hair services. With just a few clicks you can have Whitney arrive at your doorstep to help you look and feel revamped. She knows the latest trends and carries the latest products, so you know you're getting the VIP treatment. Whitney's services include:
Men's and Women's haircuts
Hair Trims
Hair color – lowlights, partial highlights, foil highlights, ombre
Hair extension removal
Keratin treatment
Perms
Relaxer touch-up
Natural hair – roller set, shampoo & set
Barber – line-ups, beard trim, fade
Full-face makeup
Weddings
Kids makeup parties
Kids' hair – detangling, blow-dry
Available on the App Store and Google Play. Download the MOBILESTYLES App now! https://mobilestyles.com/download
Find Whitney in the MOBILESTYLES PRO Directory here:
https://mobilestyles.com/professional/Xvlg410KPrsoAR7mkL4x/whitney-kalla/cosmetologist/phoenix-az
MOBILESTYLES is the #1 on-demand health and beauty app that arrives swiftly at your doorstep. Get quick tips on how to book a professional to come to you! MOBILESTYLES combines beauty and technology for your convenience. MOBILESTYLES is the only app that brings health, beauty, and wellness to your doorstep. With a few clicks, take back your life and create your own bliss at home. 
Subscribe to our channel to stay charming and stylish! https://www.youtube.com/channel/UCe4-OawdztvAtFBeHLeQxZQ
Follow us for the latest MOBILESTYLES news.
Instagram: https://www.instagram.com/mobilestylesapp/
Facebook: https://www.facebook.com/mobilestylesapp
Twitter: https://twitter.com/mobilestylesapp
LinkedIn: https://www.linkedin.com/company/mobilestylesapp/
Website: https://mobilestyles.com/
Contact us!
Call: (844) 9-STYLES
Text: (323) 897-1512
Email: contact@mobilestyles.com