How To Use Hair Clippers To Cut Hair for Beginners ✂️
How To Use Hair Clippers To Cut Hair for Beginners ✂️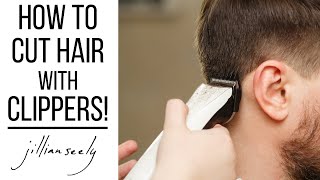 Learn how to use hair clippers to cut hair! ✂️ Get the perfect fade or buzzcut!
Subscribe for more tips on hair care: http://bit.ly/Sub2Jillian
Learn how to do a color touch up of your hair AT HOME: https://youtu.be/29sfr0lRFM4
Today I'm going to teach you how to cut someone's hair with clippers. If you are unable to go to your hairdresser and get a haircut, you might have to learn how to cut your friend's hair with clippers! This hair clipper tutorial will keep you groomed until you can get back to a real hairdresser again!
For the top of the head, you want to use scissors. If you don't have scissors or don't want to use them, you can put a longer guard on the hair clippers and use that. The longer guard you use, the safer the haircut, and the less chance you have of messing up! Start cutting men's hair with clippers today!
Get my ANTI-AGING SHAMPOO: https://hairhealthbyjillianseely.com/products/anti-aging-shampoo
Get my ANTI-AGING CONDITIONER: https://hairhealthbyjillianseely.com/products/anti-aging-conditioner
#homehaircut #homeclippercut #hairhealthbyjillianseely
#Hairclippers
▬▬ ABOUT JILLIAN ▬▬
Jillian's passion for hair and making people look and feel beautiful has made her one of the most respected hair stylists in the industry. She is recognized as one of Chicago's leading beauty experts.
Jillian has been featured in Michigan Avenue Magazine, Chicago Magazine, Chicago Social, the Chicago Tribune, the Chicago Sun Times, and Modern Salon and was chosen as Allure Magazine's "Best of the Best in Beauty." Jillian was a guest on In the Loop with iVillage on NBC, and in 2010 she was recognized in Chicago Magazine's Hair Awards.
Chicago Magazine quoted Jillian as saying: "I want to make people feel and look sexy. I start with the Sassoon style of cutting, which is very regimented and meticulous; then I do the rest freehand – I sculpt hair to fit the face and head shape – and I don't let people walk out of here looking ordinary."
No One is Ordinary. You got that right.
▬▬ ☆ CELEBRITY CLIENTS ☆ ▬▬
President Barack Obama, Mayor Rahm Emanuel, Sandra Bernhardt, Chris Farley, Paula Marshall, Katherine Graham, LeBron James, Magic Johnson, Lady Margaret Thatcher, Jamie Gertz, Paloma Picasso, Kitty Kelly, Nicollette Sheridan, Alan Thicke, Jean Claude Van Damme, Kendra Wilkinson, Billie Jean King, Monica Seles, Rita Wilson, Julia Child and ​Jamie Lee Curtis.
▬▬ CONTACT JILLIAN ▬▬
Visit her website: https://www.jillianseely.com/
Follow her on Instagram: http://bit.ly/JillianSeelyIG