How To Trim Your Hair At Home – Original CreaClip Hair Cutting Tool
How To Trim Your Hair At Home – Original CreaClip Hair Cutting Tool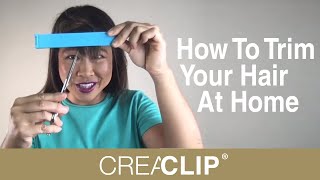 It may seem like letting a few extra weeks or months pass between haircuts is no big deal, but regular trims are actually so important for the health of your hair. Since damage typically starts at the ends and moves up the shafts, trimming your hair can prevent split ends or heat damage from spreading. This also allows your hair to keep growing, so even if you're trying to get longer hair, trims are still important!
Depending on your haircut and texture, you may need to get your hair trimmed or cut as often as every four to six weeks. But most of us are busy, and it can be tough to carve out time for regular trips to the salon.
Luckily, CreaClip has a solution that can keep your hair looking great even when you don't have time for an appointment. When you use the Original CreaClip, you can get salon-quality results without ever having to leave your house.
https://creaproducts.com/blogs/boom/how-to-cut-your-hair-at-home-when-you-cant-get-to-the-salon