HOW TO: Pull-Through Braid Tutorial ✨ Easy Braided Hairstyle
HOW TO: Pull-Through Braid Tutorial ✨ Easy Braided Hairstyle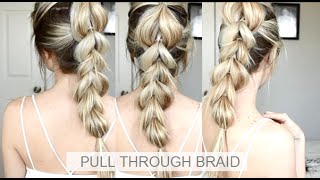 Let's stay connected: http://www.instagram.com/alexgaboury
Today's how-to hair tutorial is an easy pull-through braid hairstyle! This braided hairstyle is perfect for medium – long hair hair lengths. This is the perfect spring + summer hairstyle, and would be gorgeous for weddings, bridal parties, special occasions, or to switch up your everyday hairstyle. This hairstyle is also similar to the bubble braid, which is another great rubber band braid.
I'd love to hear your thoughts, and don't forget to tag me in your recreations on Instagram.
Watch my Robe Tie Curls video here (thank you for over 1,000,000+ views!): http://bit.ly/ROBETIECURLS
–
Let's stay connected
TikTok: http://www.tiktok.com/@alexgaboury
Instagram: http://www.instagram.com/alexgaboury
Pinterest: https://www.pinterest.com/alexgabouryyt
For business inquiries, email me at: agabourybiz@gmail.com
–
Discount Codes
Receive $10 off your Luxy Hair order with code "LX-ALEXG"
http://bit.ly/2HyJukW
–
More Hair Tutorials
Super Simple Updo: https://goo.gl/WqROrT
How I tone my blonde hair: http://goo.gl/SLW5iA
Dutch Fishtail Crown Braid: https://goo.gl/YpppM8
Horizontal Pull-Through Braid: https://goo.gl/TeOKSL
How to: Double Twist Crown Braid: https://goo.gl/oLfuBU
Everyday makeup tutorial (Drugstore): http://goo.gl/YFCDth
–
Music
JPB – HIGH music was provided by NCS – https://www.youtube.com/channel/UC_aEa8K-EOJ3D6gOs7HcyNg
Found here: https://soundcloud.com/anis-jay
–
DISCLAIMER: This video is not sponsored. Some of the above links are affiliate links.
#EasyHairstyles #PullThroughBraid #HairTutorial