How To Become A Barber – Diploma NVQ 2
How To Become A Barber – Diploma NVQ 2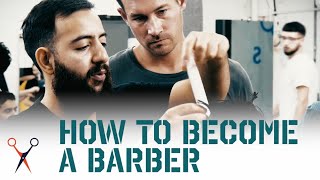 Are you looking for a complete career change or have just always wanted to become a barber? Take our popular Diploma NVQ 2 beginner course at London School of Barbering and become a shop ready barber in just 9 weeks.
You'll be learning to cut men's hair in a barbershop run academy, with access to real clients, a structured training program, along with excellent support and guidance from our highly professional educators.
Watch the video to find out more about what is involved in this course and how it is your ticket to becoming a knowledgable, confident and professional barber.
To find out what course dates are next available for the popular NVQ 2 Diploma beginner course, visit our website to view available places: https://www.londonschoolofbarbering.com/barbering-courses-and-training/