Fun, summer hair trends | FOX 10 AZAM
Fun, summer hair trends | FOX 10 AZAM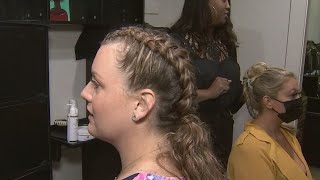 FOX 10's Desiree Fluellen visits Leslie Martin Beauty in Chandler to check out fun summer hair looks featuring braids.
AZAM segments: http://bit.ly/3cG15Kx
Subscribe to FOX 10 Phoenix! https://bit.ly/39zQtv5
Watch FOX 10 Phoenix live: https://www.fox10phoenix.com/live
Check out videos, recipes and get links mentioned on the show. Watch Ron Hoon, Renee Nelson, Syleste Rodriguez, Troy Hayden and Cory McCloskey on FOX 10 Arizona Morning airing 4:30 am – 10 am weekdays and catch Ty Brennan and Anita Roman on 6 am – 9 am Saturdays and 6 am – 8 am on Sundays.
Watch more FOX 10 Phoenix on YouTube:
Download FOX 10 Phoenix News and Weather App:
https://www.fox10phoenix.com/apps
Follow FOX 10 Phoenix on Facebook:
https://www.facebook.com/FOX10Phoenix
Follow FOX 10 Phoenix on Twitter:
Tweets by FOX10Phoenix
Follow FOX 10 Phoenix on Instagram:
https://www.instagram.com/fox10phoenix
Subscribe to FOX 10 Phoenix's newsletters:
https://www.fox10phoenix.com/email