"Every Day" | Armando & Christiana | El Tango Reception Hall | Wedding Highlight Video
"Every Day" | Armando & Christiana | El Tango Reception Hall | Wedding Highlight Video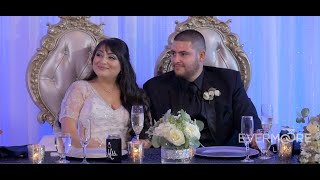 (For best viewing watch full screen!)
It isn't every day that your crush in Junior High will one day become your one true love. Armando had been carrying the torch for Christiana since Junior high, and he could see right away what a beautiful, sweet, and caring person she was, and that captured his heart. But alas! Armando was in the "friend zone" and had to win her heart, and win her heart he did! Six years later to the day, the girl of his dreams would become his wife.
On the morning of the wedding, Armando dressed in his black tux from AJ's Tuxedos, while Christiana and her mother had their hair and makeup skillfully done by Alivia Daniels of Revive Salon. The bridesmaids dressed in a beautiful deep blue then helped Christiana into her elegant laced gown from Ladies and Gents Bridal.
The bride and groom exchanged their vows at St. Francis of Assisi Parish in front of family and friends then traveled to El Tango Reception Hall to celebrate! Sasha Saldana Photography was there throughout the day capturing every detail of their wedding day from the beautiful florals by Garden District Flowers to the stunning three-tiered cake from Rosie's Cake and Cookies, to the first dance, and the many heart felt toasts. Keeping the party going was Freestyle Event Services along with Mariachi San Marcos all skillfully providing lots of fun music for the evening! The wedding guests enjoyed a meal by NV Catering and reminisced about this happy couple's sweet love story.
What started out as a young Junior High crush from afar ended in happily ever after. As his sisters recounted, Armando would come home every day with a smile on his face because he had been able to see Christiana, now he can smile every day as he gets to spend the rest of his life with her.
CREDITS
CAST
Starring Actor: Armando
Starring Actress: Christiana
CREW
Producer: Evermoore Films
Cinematographers: Joshua Moore and Ricardo Santoyo
Photography: Sasha Saldana Photography
DJ: Freestyle Event Services
Officiant: Monsignor Craig
Live Music: Mariachi San Marcos
WARDROBE DEPARTMENT
Hair Stylist: Alivia Daniels of Revive Salon
Makeup Artist: Alivia Daniels of Revive Salon
Dress Shop: Ladies and Gents Bridal
Tuxedos: AJ's Tuxedo Junction
Ring Shop: Roger's Jewelry Co.
Accessories: Alivia Daniels of Revive Salon
ART DEPARTMENT
Florist: Garden District Flowers
Rentals: El Tango Reception Hall
Lighting: El Tango Reception Hall
Linens: El Tango Reception Hall
Invitations: Wedding Paper Divas
CRAFT SERVICES
Catering: NV Catering
Bakery: Rosie's Cakes and Cookies
SET LOCATIONS
Ceremony Venue: St. Francis of Assisi Parish
Reception Venue: El Tango Reception Hall
Location: Bakersfield, California
SOUNDTRACK:
"Rise" By Rob Flemming Courtesy of Soundstripe
"Wooden Rose" By Matt Wigton Courtesy of Soundstripe