CLIENT CONSULTATION: HAIRSTYLISTS TIPS, HOW TO ASK THE RIGHT QUESTIONS
CLIENT CONSULTATION: HAIRSTYLISTS TIPS, HOW TO ASK THE RIGHT QUESTIONS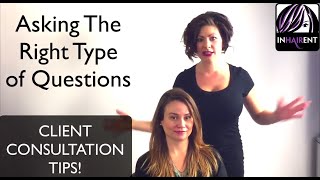 CLIENT CONSULTATION: HAIRSTYLISTS TIPS, HOW TO ASK THE RIGHT QUESTIONS TO CLIENTS
http://www.inhairent.com
https://www.youtube.com/channel/UCoBf5lX0caMyzzc9L-SQALg
In this video Cortney will show you how to do a client consultation specifically dealing with asking the right questions. Learn the right questions to ask and what questions to avoid and how you can take back control behind the chair. This is a great tip for all hairdressers and will help you give your clients the best experience possible.