Barber uses terrifying tools to style clients' hair
Barber uses terrifying tools to style clients' hair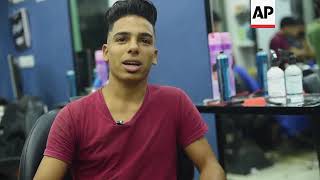 (22 Aug 2017) LEADIN:
An Egyptian barber has invented a new hair-styling technique using some unusual and terrifying tools.
STORYLINE:
Barber Ahmed Abo Al Enein shows his customer all the different hairstyles on offer.
Nothing is too extreme for this hairdresser in Mit Ghamr, northern Egypt.
The risk-taking barber is known locally as "The Joker" and many people may struggle to take his new hair-styling technique seriously.
Al Enein has started using a host of unusual tools to perfect his styling skills – including a hammer.
He also takes a cleaver to client's hair – something that unsurprisingly scares those who sit in the barber chair for the first time at The Joker's Barbershop.
"Cutting hair with a hammer, razor and a knife is a strange way that shocks the customers. We wanted to do something different and we have seen others on social media do strange things like straighten hair using fire. So we were determined to do a new style of hair-cutting using the hammer and knife," explains Al Enein.
However, the idea actually came about organically when the barber was visiting some relatives.
"One of them asked me to cut his hair and I didn't have my tools at the time so I cut his hair using a knife."
Al Enein has also taken inspiration from a Youtube video showing a barber in Pakistan who uses fire to straighten customers' hair.
With all these dangerous techniques, it seems understandable that some customers may be a little hesitant to walk into his barbershop.
But 20-year-old customer Mohamed Ali is delighted with the result.
"I was scared and worried at first, but I liked it when I tried it. It does great hairstyles and there's no need to be afraid of it."
Al Enein knows that many people will be scared by his unusual techniques to begin with but says that he now finds himself in demand.
"Customers at the beginning were afraid but when he sees the final outcome he is pleased and other customers demand now to get their hair cut with a knife and a hammer."
Al Enein suggests these crazy ideas to his customers and they have the freedom to decide whether to try it or not.
If they agree, he takes a video of the process and posts it online, no doubt inspiring hairdressers in other parts of the world.
You can license this story through AP Archive: http://www.aparchive.com/metadata/youtube/8582cd94161b8f5ba330cbf5ee6c6abe
Find out more about AP Archive: http://www.aparchive.com/HowWeWork