ASMR~ Haircut Role Play ( with hair ) Fiona ASMR's Custom Video ❤️
ASMR~ Haircut Role Play ( with hair ) Fiona ASMR's Custom Video ❤️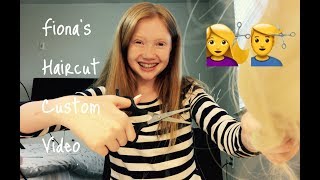 Hi Fiona ASMR! 💕 I hope you love your video! 😄
To all of my other lovely fans: PLEASE check out Fiona ASMR at: https://www.youtube.com/c/fionaasmr
She has a new Q&A video up! Check out her channel, show her some love, ask a unique question, and tell her Mak sent ya! 😊 Not only is she BEAUTIFUL and TALENTED… but she is SUPER FUNNY! You must see her Crazy Asian Lady Doctor Roleplay and Psycho Asian Lady Reads Your Fortune Roleplay!!! 😂💗
Hello Everyone!
Thank you for your support! I hope you enjoy my videos.
Help me in my venture to spread positivity, beauty, and self love through individual creativity.
You are perfect just the way you are!
Follow me on INSTAGRAM: lifewithmak2005
I have a P.O. Box/Business Address For Fan Mail!!!
Life With MaK
1001 A East Harmony Rd. #161
Fort Collins, CO 80525
$$$ YOU CAN TIP ME/DONATE to support my channel! (PayPal):
https://www.paypal.me/youtubelifewithmak
Every dollar counts and is truly appreciated!
IMPORTANT! As of 8/13/2018, I am pausing CUSTOM videos in preparation for the school year (how did the summer go so fast?!?!?). I have enjoyed making these and truly appreciate all of my fans! Don't worry… I'm still going to upload videos on YouTube, I just have to focus on school first. 🙂
I hope you have a wonderful day! Thanks again for your support and stay positive!!! 💕
For more information (that is NOT included in this description) please e-mail management at: lifewithmak@gmail.com
Lots-o-love,
Mak 🌈