90's HAIRSTYLES trending in 2020🦋
90's HAIRSTYLES trending in 2020🦋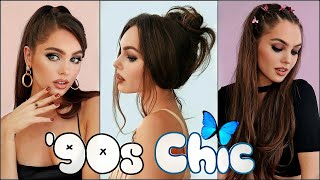 Hey it's jackie wyers & welcome back for this '90's HAIRSTYLES trending in 2020 hair tutorial🦋 In this 90s hair tutorial we are covering the sleek, side part high pony, claw clip hairstyle for long hair, Baby Spice pigtails & nostalgic butterfly clips as seen on celebs like Bella Hadid🦋 I hope you like my take on these trendy 90's hairstyles with long, thin hair & thumbs up if you love vintage / aesthetic hairstyles inspired tutorials!
#90sHairstyles #EffortlessChic
On my channel find iconic POP CULTURE beauty moments and how to re-create the look on yourself! The goal of my tutorials is to teach practical makeup & hair tips and tricks so you can Switch Up Your Style With Confidence while celebrating what you love.
For new 🍿POP CULTURE🍿 & 🎀VINTAGE VIBES🎀 tutorials – subscribe so you don't miss an upload every week & tag me if you try out a look so I can feature you in my next upload! xo Jackie
WATCH MORE:
Bella Hadid Transformation: https://www.youtube.com/watch?v=Z4dVShd0XRU&t=9s
Margot Robbie Wolf Of Wall Street Tutorial: https://www.youtube.com/watch?v=1AEctVwF5Bg
m y m a i n l i n k s :
❣ INSTAGRAM: http://instagram.com/jackiewyers
❣TIKTOK: https://www.tiktok.com/@jackie.wyers
❣PINTEREST: https://www.pinterest.ca/jackiewyers/
❣ Shop MERCH: https://bit.ly/33U24QT
❣ VLOG CHANNEL: https://www.youtube.com/channel/UCTVV…
m o r e l i n k s :
❣ TWITTER: https://twitter.com/jackiewyers
❣POSHMARK: https://poshmark.com/closet/jackiewyers
Hairspray used:
https://bit.ly/36dPVcG
extensions used:
USE CODE JACKIE10 for $10 off any set of hair extensions!
Bellami Bellissima 220g 22" walnut brown hair extensions:
https://www.bellamihair.com/products/…
If you are reading this… comment the
🗝POP CULTURE
PASSWORD🗝
"Naomi, Cindy &
Claudia"
(90s Supermodels of course!)
90s outfits are from vergegirl.com
HAIR TOOLS:
Use code JACKIET320 to get 20% off hot tools from T3 Micro:
I used the new Lucea-id Straightening & Styling Iron
https://www.t3micro.com/product/lucea-id-straightening-and-styling-iron
& the Defined Curls clip barrel later in the tutorial bec I prefer curling wands on my hair!
https://www.t3micro.com/product/defined-curls-clip-barrel
"Music from Epidemic Sound (http://www.epidemicsound.com)"
Disclaimer: Not sponsored. Some of the products listed links are affiliated!