3 EASY FALL HAIRSTYLES 2020 🍁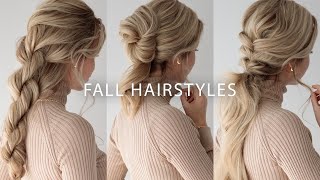 Shop Christophe Robin using code ALEX25 for 25% off 👉🏻 https://bit.ly/2X7mELR
Today's hair tutorial is 3 easy fall hairstyles for 2020! These are some of my favourite hairstyles because they look a lot more difficult than they actually are. These hairstyles are quick, and perfect for medium – long hair lengths. The first hairstyle is a voluminous rope braid pony-tail, definitely the hardest of the 3. Next is a very simple everyday French twist, I love this hairstyle because it is very cool yet chic and perfect for any occasion. And lastly my personal favourite, a quick ponytail, the transformation after pancaking it is beautiful!
Comment down below which hairstyle is your favourite, 1,2 or 3? ☺️
Watch last year's fall hairstyles tutorial here 👉🏻 http://bit.ly/FallHairstylesandTrends
–
PRODUCTS
USE CODE ALEX25 FOR 25% OFF CHRISTOPHE ROBIN
Christophe Robin Scalp Scrub (my favourite): https://bit.ly/2X7mELR
Travel Size: https://bit.ly/31RkdPl
Christophe Robin Shade Variation Mask in Baby Blonde: https://bit.ly/3oCPRd1
Travel Size: https://bit.ly/2HAOLy2
Disclaimer: Thank you so much Christophe Robin for sponsoring this video.
JEWELRY IN VIDEO
Earrings: https://bit.ly/3qtcHFc
Necklace: https://bit.ly/3oj1qFp
Bracelet: https://bit.ly/39KvsxX
–
FOLLOW ME
INSTAGRAM: http://www.instagram.com/alexgaboury
PINTEREST: https://www.pinterest.com/alexgabouryyt
FACEBOOK: https://www.facebook.com/alexgabouryyt
TWITTER: http://www.twitter.com/alexgaboury
BLOG: http://www.alexgaboury.com
For business inquiries, email me at: agabourybiz@gmail.com
–
SIMILAR EASY HAIRSTYLES + TUTORIALS
ALL ABOUT MY HAIR, CUT COLOUR, TONER, HAIR EXTENSIONS
https://bit.ly/BlondeHairFAQ
EASY HAIRSTYLES FOR SPRING + SUMMER 2020
https://bit.ly/EASYSPRINGHAIRSTYLES2020
GREAT EVERYDAY HAIRSTYLES
https://bit.ly/BacktoSchoolHairstyles2020
6 QUICK & EASY HAIRSTYLES | Cute Long Hair Hairstyles
https://bit.ly/6CuteLongHairHairstyles
MY GO-TO GLOWY SUMMER MAKEUP
https://bit.ly/GlowySummerMakeup
–