018 Keep It Cut with Jacob Meltzer : Ahwatukee Uncensored with Howard Farran
018 Keep It Cut with Jacob Meltzer : Ahwatukee Uncensored with Howard Farran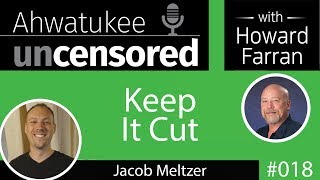 Tukeetown is your destination to get recommendations on local businesses, find information on upcoming events, buy and sell items in the classifieds section, and listen to the latest Ahwatukee Uncensored podcast–all while connecting with your community! Our organized message boards give Ahwatukee residents an easier way to exchange viewpoints and discuss topics that matter to you and your community.
Learn more at http://Tukeetown.com
Listen on iTunes http://bit.ly/AUwHFiTunes
We were just two guys who were tired of having unkempt hairlines and unruly neck beards. We wanted to keep our hair looking fresh, but couldn't afford frequent cuts. We said, "I wish there was a place that I didn't have to pay every time I got my haircut." From this idea Keep It Cut was born. Good haircuts at a fair price were just the start though. Add a relaxed atmosphere along with skilled stylists and Keep It Cut hits the nail on the head. Come in and give it a shot, we are confident you will agree.
4025 E Chandler Blvd, Ste 50, Ahwatukee, AZ 85048
(480) 584-3628
http://www.KeepItCut.com
Correction on how many hours it takes to get licensed:
  – 1600 hrs of Training – AZ Cosmetology License
  – 1500 hrs of Training – AZ Barber License
  – 750 hrs of Training – AZ Barber License (if you already have AZ Cosmetology License)
Local First Arizona Local Banks Listings: http://directory.localfirstaz.com/banks
Books referenced:
The Snowball: Warren Buffet and the Business of Life by Alice Schroeder
Blue Ocean Strategy by W. Chan Kim and Renée Mauborgne