💈Phoenix, Arizona 💈World Barber Shop Adventures
💈Phoenix, Arizona 💈World Barber Shop Adventures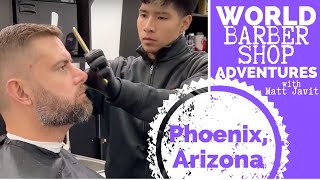 Visiting friends in Phoenix, Arizona was a blast! We had a chance to watch Arizona State and the University of Arizona battle it out at Sun Devil Football Stadium, hike along the beautiful trails that surround the city, have a late-November grill-out, and see the Havocs in action at Grand Canyon University Arena. What a trip!
Along with all that excitement, I had the chance to visit AZ Barber Studio where Chan the Barber worked his craft giving me a great haircut, beard trim, and even a nose peel. Chan the Barber is from Native American heritage and his tribe is from Yuma, Arizona. I got the sense that it was a huge leap of faith for him to follow his passion for barbering to Phoenix. He is all-in with the craft and does an outstanding job of marketing himself both online and in the shop. You will notice his customized jacket. He is very motivated and is also investing in his knowledge on the business side of the industry. The sky is the limit for Chan the barber.
The entire team at AZ Barber Studio is upbeat, energetic, and outstanding at their craft. They are encouraging of each other and a ton of fun to be around.
Barber Shop:
AZ Barber Studio
9971 W Camelback Rd suite 123,
Phoenix, AZ 85037

https://www.instagram.com/azbarber.studio/
Barber: Chan The Barber
Service: Haircut + Beard Trim + Nose Peel
https://www.instagram.com/chanthebarber/
Special Thanks:
Arizona State
Grand Canyon University
Eddie Robinson
Be sure to SUBSCRIBE now to follow all of my adventures in the barber chair around the world. 💈
http://bit.ly/YouTubeSubMJ
**Suggested Products**
► Matt's favorite SHAVING CREAM, RAZOR,
Highly rated CLIPPERS, STRAIGHT EDGED Razor, and much-needed BARBER POLE:
https://www.amazon.com/shop/mattjavit
💈WORLD BARBER SHOP ADVENTURES SOCIAL MEDIA
► Instagram: https://www.instagram.com/worldbarbershopadventures/
To understand why I love barber shops, the craft, the tradition, and why I decided to document my journeys around the world, please read my post that also describes why I think barber shops help build confidence, independence, and teach us how to be a gentleman.
Read the full details on our website: http://bit.ly/BarberLove
Experiences over Things!
🌍 Matt's Travel Blog and Advice 🌎
► Weekly PODCAST from Around the World: http://bit.ly/PJPodWBSA
► Weekly NEWSLETTER on all the adventures: http://bit.ly/NewsWBSA
► See the locations of our JOURNEY AROUND THE WORLD: http://bit.ly/SoFarWBSA
► Instagram: https://www.instagram.com/mattjavit
► Nikki (Camera Hottie) Instagram: https://www.instagram.com/nikkijav
ABOUT MATT & NIKKI JAVIT and PASSPORTJOY.COM
Matt & Nikki Javit traveled the world full time visiting 35 countries over 27 months with just a single backpack each after leaving the US in February 2017.
During their travels, they find creative ways to keep down their costs, get involved in the communities, and network with locals while having a great time.
They document their journeys on their blog and podcast at https://PassportJoy.com and Matt shows all of his time spent in Barber Shops around the world in the docuseries.
Business Enquiries: matt@passportjoy.com
Video production support: https://www.instagram.com/austintrachsel/
© All video, photos, and audio are owned by me. Rights to all music in these videos have been paid for in full through the proper channels. If any producer or label has a question with any of the tracks please get in contact (matt@passportjoy.com) and it will be addressed. Thank you!
#GCU #Havocs #Phoenix