💈 Sit Back & Relax With A Hot Towel Shave At Electric Barbering | Williams Arizona
💈 Sit Back & Relax With A Hot Towel Shave At Electric Barbering | Williams Arizona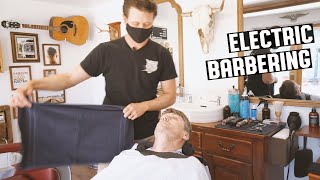 Sit back & relax with a hot towel shave at Electric Barbering which is the only barbershop on Route 66 in Williams, Arizona. Williams is known as the "Gateway to the Grand Canyon" and is a small town with a population of a little over 3,100.
When Calen Koenig, owner of Electric Barbering, returned to his hometown of Williams after living in Portland for ten years, he thought it would be good to open something for the community since they no longer had a barbershop.
"I like that barbershops are community. People come in and you get to have conversations that you really wouldn't have with strangers or other people." Calen adds, "You get to build this relationship with people in your community that you just couldn't otherwise."
Since his shop has opened, people have loved visiting a barber again in town💈❤️
If you haven't already seen the haircut video we filmed with Calen, you can watch it here👇🏼
Calen wanted his barbershop to be timeless and inviting, and it's a place that reflects his personal interests as well.
He grew up playing in a local rockabilly band and keeps his guitar and double bass in the barbershop. Now and again, Calen will play a few tunes between customers. He's also really into vintage trucks and motorcycles 🏍
Huge thanks to Bobby for recommending this awesome barbershop to us 🙏🏼
▶ Read more about Electric Barbering on our blog👇🏼
https://haircutharry.com/electric-barbering-on-route-66-in-williams-arizona/
▶ For more videos, watch our Top 10 Most Viewed Haircut & Wet Shave Videos featuring traditional barbershops from around the world👇🏼
S P E C I A L T H A N K S:
Calen Koenig, Barber & Owner
Electric Barbering
321 E Route 66
Williams, AZ 86043
USA
▶ To book an appointment and for current prices of services, please visit👇🏼
https://electricbarbering.com
P R O D U C T S:
▶ Preshave Conditioner – https://haircutharry.com/l1ws
▶ Aftershave Balm – https://haircutharry.com/f6f9
▶ Razor – https://haircutharry.com/746a
▶ Razor Blades – https://haircutharry.com/gohw
▶ Aftershave Tonic – https://haircutharry.com/fbuy
▶ Talc – https://haircutharry.com/zx8z
************
F T C D I S C L A I M E R:
Some links shared in this description box may be affiliate links which means if you use those links I may get compensation from the companies at no cost to you. We use any money earned to produce new video and blog content to share. Thank you for your support.
************
Thank you so much for stopping by and watching!
How the journey of visiting barbershops around the world began 👉🏼 https://www.haircutharry.com/about/how-it-all-started/
Stories behind our most popular videos 👉🏼 https://haircutharry.com/our-most-popular-videos-with-over-a-million-views/
T H A N K Y O U ❤
A special thank you to all of our Patreons for helping us to create our content!
Become a Patreon supporter too! https://www.patreon.com/HairCutHarry
************
E Q U I P M E N T:
Our current gear and the logic: https://www.haircutharry.com/our-camera-gear
C A M E R A S:
PRIMARY CAMERA
https://haircutharry.com/ACamara
PRIMARY LENS (FILMING)
https://haircutharry.com/PLens
GIMBAL
https://haircutharry.com/Gimbal
2ND CAMERA
https://haircutharry.com/BCamara
2ND CAMERA LENS
https://haircutharry.com/BLens
TRAVEL TRIPOD
https://haircutharry.com/TravelTripod
MONOPOD
https://haircutharry.com/monopod
A U D I O:
BOOM MICROPHONE
https://haircutharry.com/BoomMic
WIRELESS LAV MIC
https://haircutharry.com/WLMic
SMART PHONE LAV MIC
https://haircutharry.com/PhoneLav
AUDIO RECORDER
https://haircutharry.com/AudioRecorder
PRIMARY PHOTOGRAPHY LENS
https://haircutharry.com/GotoPhotoLens
CAMERA BAG
https://haircutharry.com/CameraBag
************
B L O G: https://haircutharry.com
I N S T A G R A M: https://instagram.com/haircutharry
F A C E B O O K: https://www.facebook.com/haircutharry
T W I T T E R: https://twitter.com/haircutharry
P I N T E R E S T: http://www.pinterest.com/haircutharry/
************
#haircutharry #haircutharryarizona