💈 Relaxing Traditional Wet Shave Experience | The House of Shave Barber Parlor, Phoenix Arizona
💈 Relaxing Traditional Wet Shave Experience | The House of Shave Barber Parlor, Phoenix Arizona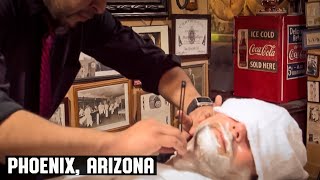 HairCut Harry experiences a classic wet shave at The House of Shave Barber Parlor in Phoenix Arizona where barber Matthew Gallegos makes you "feel like a million bucks in exchange for $20" by the time you are ready to leave.
S P E C I A L T H A N K S
Matthew Gallegos, Barber and Owner
The House of Shave Barber Parlor
115 W McDowell Rd
Phoenix, AZ 85003
**********
Thank you so much for stopping by and watching! To find out the stories behind our most popular videos, read our blog post 👉🏼 https://haircutharry.com/our-most-popular-videos-with-over-a-million-views/
If you are wondering how I came to travel and what got me into visiting barber shops around the world, please check out our blog post: https://www.haircutharry.com/about/how-it-all-started
We get asked a lot, so here it is! My current basic camera gear: https://www.haircutharry.com/our-camera-gear
Did we spark your interest in traveling here? Here is a travel guide we referred to on this trip and recommend through our Amazon affiliate link! http://amzn.to/2CIgFks
T H A N K Y O U ❤
A very special thank you to all of our Patrons for helping us to create our content!
If you enjoy our videos, consider becoming a Patreon supporter!
https://www.patreon.com/HairCutHarry
************
To see more of our ongoing travels, follow our blog: http://www.haircutharry.com.
We would love to see you there as well as on social media @HairCutHarry where we share many photos of the places we visit!
I N S T A G R A M: http://instagram.com/haircutharry
F A C E B O O K: https://www.facebook.com/haircutharry
T W I T T E R: http://twitter.com/HairCutHarry
P I N T E R E S T: https://www.pinterest.com/haircutharry/
**********