💈 Classic Vanguard HAIRCUT & HAIR STYLING At True North Barber Shop | Phoenix Arizona
💈 Classic Vanguard HAIRCUT & HAIR STYLING At True North Barber Shop | Phoenix Arizona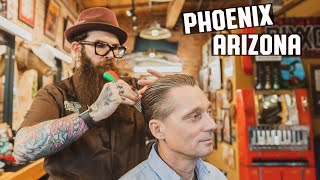 Classic Vanguard Haircut & hair styling at True North Barber Shop located on Roosevelt Row in the downtown Phoenix Arts District. Opened by Ray DeCandia and serving the local community since 2017, True North Barber Shop specializes in traditional men's haircuts. So if you appreciate classic cuts such as the executive contour, pompadours, and flat tops then check out this barbershop.
When customers visit the shop Ray hopes they have a good time, enjoy their haircuts, and like the company and conversation. Ray really appreciates how his customers are finding it important to visit his shop and support local businesses during this time.
Prior to becoming a barber, Ray proudly served in the US Navy. The path to becoming a barber was not easy. Ray shared there were many struggles along the way.
To hear about Ray's journey to becoming a barber and see more of True North Barber Shop, watch our interview 👉🏼 https://youtu.be/Xh1liu4oEnw
For more haircuts from around the world, check out this playlist 👉🏼 https://www.youtube.com/watch?v=e4qdLkqXbF8&list=PL2GmdNY-n0678ICIlln0E5fpEC_Gxk-1H
S P E C I A L T H A N K S:
Raymond DeCandia, Barber & Owner
True North Barber Shop
515 E. Roosevelt Street, A6
Phoenix, AZ 85004
USA
To book an appointment and for current prices of services, please visit👇🏼 https://www.truenorthbarbers.com
P R O D U C T S:
Primer – https://amzn.to/3hk9wua
Styling Clay – https://amzn.to/3aS7DCH
Pomade – https://amzn.to/3aLgYMr
Powder – https://amzn.to/3hiz6A3
Hair Dryer – https://amzn.to/3l8p0DW
Straight Razor – https://haircutharry.com/Razors1
************
F T C D I S C L A I M E R:
Some links shared in this description box may be affiliate links which means if you use those links I may get compensation from the companies at no cost to you. We use any money earned to produce new video and blog content to share. Thank you for your support.
************
Thank you so much for stopping by and watching!
How the journey of visiting barbershops around the world began 👉🏼 https://www.haircutharry.com/about/how-it-all-started/
Stories behind our most popular videos 👉🏼 https://haircutharry.com/our-most-popular-videos-with-over-a-million-views/
T H A N K Y O U ❤
A special thank you to all of our Patreons for helping us to create our content!
Become a Patreon supporter too! https://www.patreon.com/HairCutHarry
************
E Q U I P M E N T:
Our current gear and the logic: https://www.haircutharry.com/our-camera-gear
C A M E R A S:
PRIMARY CAMERA
https://haircutharry.com/ACamara
PRIMARY LENS (FILMING)
https://haircutharry.com/PLens
GIMBAL
https://haircutharry.com/Gimbal
2ND CAMERA
https://haircutharry.com/BCamara
2ND CAMERA LENS
https://haircutharry.com/BLens
TRAVEL TRIPOD
https://haircutharry.com/TravelTripod
MONOPOD
https://haircutharry.com/monopod
A U D I O:
BOOM MICROPHONE
https://haircutharry.com/BoomMic
WIRELESS LAV MIC
https://haircutharry.com/WLMic
SMART PHONE LAV MIC
https://haircutharry.com/PhoneLav
AUDIO RECORDER
https://haircutharry.com/AudioRecorder
PRIMARY PHOTOGRAPHY LENS
https://haircutharry.com/GotoPhotoLens
CAMERA BAG
https://haircutharry.com/CameraBag
************
B L O G: https://haircutharry.com
I N S T A G R A M: https://instagram.com/haircutharry
F A C E B O O K: https://www.facebook.com/haircutharry
T W I T T E R: https://twitter.com/haircutharry
P I N T E R E S T: http://www.pinterest.com/haircutharry/
************
#haircutharry