💈 Classic Relaxing Hot Towel Shave with Face Massage at Son & Dad Barbershop | Penang Malaysia
💈 Classic Relaxing Hot Towel Shave with Face Massage at Son & Dad Barbershop | Penang Malaysia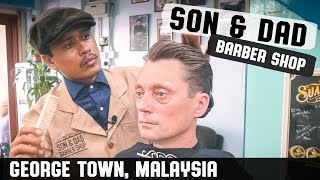 Son & Dad was the second barbershop we filmed at in Penang, Malaysia. In this video barber Elyas provides a relaxing hot towel shave, face massage, and styes my hair at the end.
Elyas and his dad Mr. Yunoos have two shops on the same street just a couple doors away from each other.
They began with one shop, and then expanded into a second larger shop to bring classic old school haircuts to Penang. We saw the shops a couple times while walking around George Town and they were always busy!
T H A N K Y O U !
Thank you SO much to everyone who has helped and supported us this year 🙏🏼❤️🤗
2020 is just around the corner and we are excited to create new content for our YT Channel. One way you can support us is on Patreon. Even a one month, one time support of $5.00 helps keep us going and creating new content 👉🏼 https://www.patreon.com/haircutharry 🙏🏼
S P E C I A L T H A N K S
Elyas Yunoos, Barber and Owner
Son & Dad Barbershop
49, Lebuh Acheh
George Town, 10300
Pulau Penang, Malaysia
https://www.facebook.com/Son-Dad-Barber-1417781818462945/
P R O D U C T S:
Pinaud Clubman Powder – https://amzn.to/2LEcNac
Proraso Pre Shave Cream – https://amzn.to/34g1qMz
Proraso After Shave Balm – https://amzn.to/2E325pc
Proraso Shaving Soap In A Bowl – https://amzn.to/2LBEMqX
************
F T C D I S C L A I M E R:
Some links shared in this description box may be affiliate links which means if you use those links I may get compensation from the companies at no cost to you. We use any money earned to produce new video and blog content to share. Thank you for your support.
************
Thank you so much for stopping by and watching!
How the journey of visiting barbershops around the world began: https://www.haircutharry.com/about/how-it-all-started/
Stories behind our most popular videos: https://haircutharry.com/our-most-popular-videos-with-over-a-million-views/
T H A N K Y O U ❤
A special thank you to all of our Patreons for helping us to create our content!
Become a Patreon supporter too! https://www.patreon.com/HairCutHarry
************
E Q U I P M E N T:
Our current gear and the logic: https://www.haircutharry.com/our-camera-gear
C A M E R A S:
PRIMARY CAMERA
https://haircutharry.com/ACamara
PRIMARY LENS (FILMING)
https://haircutharry.com/PLens
GIMBAL
https://haircutharry.com/Gimbal
2ND CAMERA
https://haircutharry.com/BCamara
2ND CAMERA LENS
https://haircutharry.com/BLens
TRAVEL TRIPOD
https://haircutharry.com/TravelTripod
MONOPOD
https://haircutharry.com/monopod
A U D I O:
BOOM MICROPHONE
https://haircutharry.com/BoomMic
WIRELESS LAV MIC
https://haircutharry.com/WLMic
SMART PHONE LAV MIC
https://haircutharry.com/PhoneLav
AUDIO RECORDER
https://haircutharry.com/AudioRecorder
PRIMARY PHOTOGRAPHY LENS
https://haircutharry.com/GotoPhotoLens
CAMERA BAG
https://haircutharry.com/CameraBag
************
B L O G: https://haircutharry.com
I N S T A G R A M: https://instagram.com/haircutharry
F A C E B O O K: https://www.facebook.com/haircutharry
T W I T T E R: https://twitter.com/HairCutHarry
P I N T E R E S T: http://www.pinterest.com/haircutharry/
**********
#HairCutHarry #AsmrHaircut #ASMRBarber