💈 Classic Old Time Wet Shave by the Guardian Angel of Route 66 – Seligman AZ
💈 Classic Old Time Wet Shave by the Guardian Angel of Route 66 – Seligman AZ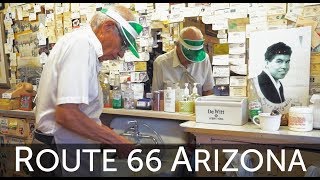 The Route 66 Wet Shave: HairCut Harry experiences a shave from the yesteryears in Seligman, Arizona by the guardian of U.S. Route 66, Angel Delgadillo.
Filmed at Angel and Vilma's Route 66 Gift Shop and Barbershop located on historic Route 66 in Seligman, Arizona. Angel is a founder of the Historic Route 66 Association of Arizona, established in 1987 to campaign for "Historic Route 66" signage on the former US highway. Similar initiatives have since been established in every U.S. Route 66 state.
Open 7-days a week, so stop by and say hello to Angel!!
Delgadillo's Route 66 Gift Shop
22265 Historic Rte 66
Seligman, AZ 86337
Check out our latest visit to Angel's to get a hair cut! "Old Time Classic HairCut and History Lesson with the Guardian Angel of Route 66 – Seligman AZ " – https://youtu.be/7jA2o5LAU8U
*** To find out the stories behind our most popular videos, read our blog post 👉🏼 https://haircutharry.com/our-most-popular-videos-with-over-a-million-views/ ***
**********
Thank you so much for stopping by and watching!
If you are wondering how I came to travel and what got me into visiting barber shops around the world, please check out our blog post: https://www.haircutharry.com/about/how-it-all-started
We get asked a lot, so here it is! My current basic camera gear: https://www.haircutharry.com/our-camera-gear
Did we spark your interest in traveling here? Here is a travel guide we referred to on this trip and recommend through our Amazon affiliate link! http://amzn.to/2C0RtsF
A very special thank you to all of our Patrons for helping us to create our content!
If you enjoy our videos, consider becoming a Patreon supporter!
https://www.patreon.com/HairCutHarry
************
To see more of our ongoing travels, follow our blog: http://www.haircutharry.com. We would love to see you there as well as on social media @HairCutHarry where we share many photos of the places we visit!
I N S T A G R A M: http://instagram.com/haircutharry
F A C E B O O K: https://www.facebook.com/haircutharry
T W I T T E R: http://twitter.com/HairCutHarry
P I N T E R E S T: https://www.pinterest.com/haircutharry/
**********
#HairCutHarry #UnintentionalAsmr #ASMRBarbershop