💈 America's Most Polite Barber | Haircut at The House of Shave Barber Parlor, Phoenix Arizona
💈 America's Most Polite Barber | Haircut at The House of Shave Barber Parlor, Phoenix Arizona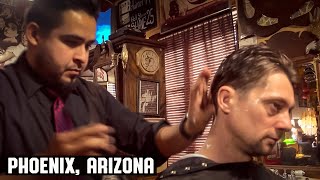 HairCut Harry experiences a classic haircut at The House of Shave Barber Parlor in Phoenix, Arizona where barber Matthew Gallegos makes you "feel like a million bucks in exchange for $20" by the time you are ready to leave.
Watch more videos we filmed with Matthew including an updated barbershop tour👇🏼
S P E C I A L T H A N K S:
Matthew Gallegos, Barber & Owner
The House of Shave Barber Parlor
115 W McDowell Rd
Phoenix, AZ 85003
************
F T C D I S C L A I M E R:
Some links shared in this description box may be affiliate links which means if you use those links I may get compensation from the companies at no cost to you. We use any money earned to produce new video and blog content to share. Thank you for your support.
************
Thank you so much for stopping by and watching!
How the journey of visiting barbershops around the world began 👉🏼 https://www.haircutharry.com/about/how-it-all-started/
Stories behind our most popular videos 👉🏼 https://haircutharry.com/our-most-popular-videos-with-over-a-million-views/
T H A N K Y O U ❤
A special thank you to all of our Patreons for helping us to create our content!
Become a Patreon supporter too! https://www.patreon.com/HairCutHarry
************
E Q U I P M E N T:
Our current gear and the logic: https://www.haircutharry.com/our-camera-gear
C A M E R A S:
PRIMARY CAMERA
https://haircutharry.com/ACamara
PRIMARY LENS (FILMING)
https://haircutharry.com/PLens
GIMBAL
https://haircutharry.com/Gimbal
2ND CAMERA
https://haircutharry.com/BCamara
2ND CAMERA LENS
https://haircutharry.com/BLens
TRAVEL TRIPOD
https://haircutharry.com/TravelTripod
MONOPOD
https://haircutharry.com/monopod
A U D I O:
BOOM MICROPHONE
https://haircutharry.com/BoomMic
WIRELESS LAV MIC
https://haircutharry.com/WLMic
SMART PHONE LAV MIC
https://haircutharry.com/PhoneLav
AUDIO RECORDER
https://haircutharry.com/AudioRecorder
PRIMARY PHOTOGRAPHY LENS
https://haircutharry.com/GotoPhotoLens
CAMERA BAG
https://haircutharry.com/CameraBag
************
B L O G: https://haircutharry.com
I N S T A G R A M: https://instagram.com/haircutharry
F A C E B O O K: https://www.facebook.com/haircutharry
T W I T T E R: https://twitter.com/haircutharry
P I N T E R E S T: http://www.pinterest.com/haircutharry/
************
#HairCutHarry #UnintentionalAsmr #ASMRHaircut