🇺🇸 The Ultimate Man Cave Barber Shop Tour | Matt's Barber Parlor Phoenix Arizona
🇺🇸 The Ultimate Man Cave Barber Shop Tour | Matt's Barber Parlor Phoenix Arizona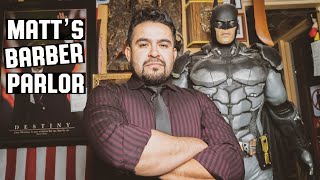 Come with us on a tour of the ultimate man cave barber shop! Catch up with Matthew Gallegos at Matt's Barber Parlor (previously The House of Shave Barber Parlor) in Phoenix, Arizona.
Matt lets us know what's been happening since filming our last video with him in 2014 and shares a few stories behind some of his prized collection that includes a life sized Batman and the fabled Ark of the Covenant!
A lot has changed since we filmed with America's most polite barber! Matt changed the name of the shop, has had visitors come from around the world, told us why he is not on social media, and talks about reading the comments on his videos.
Watch the haircut and wet shave videos we filmed with Matthew 👇🏼
S P E C I A L T H A N K S:
Matthew Gallegos, Barber & Owner
Matt's Barber Parlor
115 W McDowell Rd
Phoenix, AZ 85003
************
F T C D I S C L A I M E R:
Some links shared in this description box may be affiliate links which means if you use those links I may get compensation from the companies at no cost to you. We use any money earned to produce new video and blog content to share. Thank you for your support.
************
Thank you so much for stopping by and watching!
How the journey of visiting barbershops around the world began 👉🏼 https://www.haircutharry.com/about/how-it-all-started/
Stories behind our most popular videos 👉🏼 https://haircutharry.com/our-most-popular-videos-with-over-a-million-views/
T H A N K Y O U ❤
A special thank you to all of our Patreons for helping us to create our content!
Become a Patreon supporter too! https://www.patreon.com/HairCutHarry
************
E Q U I P M E N T:
Our current gear and the logic: https://www.haircutharry.com/our-camera-gear
C A M E R A S:
PRIMARY CAMERA
https://haircutharry.com/ACamara
PRIMARY LENS (FILMING)
https://haircutharry.com/PLens
GIMBAL
https://haircutharry.com/Gimbal
2ND CAMERA
https://haircutharry.com/BCamara
2ND CAMERA LENS
https://haircutharry.com/BLens
TRAVEL TRIPOD
https://haircutharry.com/TravelTripod
MONOPOD
https://haircutharry.com/monopod
A U D I O:
BOOM MICROPHONE
https://haircutharry.com/BoomMic
WIRELESS LAV MIC
https://haircutharry.com/WLMic
SMART PHONE LAV MIC
https://haircutharry.com/PhoneLav
AUDIO RECORDER
https://haircutharry.com/AudioRecorder
PRIMARY PHOTOGRAPHY LENS
https://haircutharry.com/GotoPhotoLens
CAMERA BAG
https://haircutharry.com/CameraBag
************
B L O G: https://haircutharry.com
I N S T A G R A M: https://instagram.com/haircutharry
F A C E B O O K: https://www.facebook.com/haircutharry
T W I T T E R: https://twitter.com/haircutharry
P I N T E R E S T: http://www.pinterest.com/haircutharry/
************
#haircutharry