🇺🇸 "Overcome" – A Barbers Journey from Navy to True North Barber Shop | Phoenix Arizona
🇺🇸 "Overcome" – A Barbers Journey from Navy to True North Barber Shop | Phoenix Arizona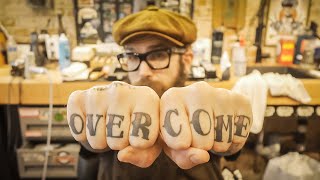 Phoenix Barber and Owner of True North Barber Shop, Raymond DeCandia, shares with us his shop and personal journey to becoming a successful barber. Ray's path was difficult with many struggles along the way that he had to overcome.
His journey from serving in the US Navy to attending cosmetology school where he felt like a fish out of water. From barber college, which was what he truly wanted to do all along, and subsequently getting fired. Ray says it sounds cliché, but the advice he shares is "don't give up!"
True North Barber Shop was opened in 2017 in the downtown Phoenix Arts District. Ray shows us around his shop which includes a painting by El Moisés; a vintage cigarette machine repurposed into an art dispenser; an American flag from the USS Missouri; hanging on the side of the lockers is a portrait of Alice Cooper created by Ray's fiancée; and you'll also get a glimpse of a legendary jackalope!
Watch more interviews and barbershop tours here 👇🏼
S P E C I A L T H A N K S:
Raymond DeCandia, Barber & Owner
True North Barber Shop
515 E. Roosevelt Street
Phoenix, AZ 85004
USA
https://www.truenorthbarbers.com
************
F T C D I S C L A I M E R:
Some links shared in this description box may be affiliate links which means if you use those links I may get compensation from the companies at no cost to you. We use any money earned to produce new video and blog content to share. Thank you for your support.
************
Thank you so much for stopping by and watching!
How the journey of visiting barbershops around the world began 👉🏼 https://www.haircutharry.com/about/how-it-all-started/
Stories behind our most popular videos 👉🏼 https://haircutharry.com/our-most-popular-videos-with-over-a-million-views/
T H A N K Y O U ❤
A special thank you to all of our Patreons for helping us to create our content!
Become a Patreon supporter too! https://www.patreon.com/HairCutHarry
************
E Q U I P M E N T:
Our current gear and the logic: https://www.haircutharry.com/our-camera-gear
C A M E R A S:
PRIMARY CAMERA
https://haircutharry.com/ACamara
PRIMARY LENS (FILMING)
https://haircutharry.com/PLens
GIMBAL
https://haircutharry.com/Gimbal
2ND CAMERA
https://haircutharry.com/BCamara
2ND CAMERA LENS
https://haircutharry.com/BLens
TRAVEL TRIPOD
https://haircutharry.com/TravelTripod
MONOPOD
https://haircutharry.com/monopod
A U D I O:
BOOM MICROPHONE
https://haircutharry.com/BoomMic
WIRELESS LAV MIC
https://haircutharry.com/WLMic
SMART PHONE LAV MIC
https://haircutharry.com/PhoneLav
AUDIO RECORDER
https://haircutharry.com/AudioRecorder
PRIMARY PHOTOGRAPHY LENS
https://haircutharry.com/GotoPhotoLens
CAMERA BAG
https://haircutharry.com/CameraBag
************
B L O G: https://haircutharry.com
I N S T A G R A M: https://instagram.com/haircutharry
F A C E B O O K: https://www.facebook.com/haircutharry
T W I T T E R: https://twitter.com/haircutharry
P I N T E R E S T: http://www.pinterest.com/haircutharry/
************
#haircutharry